Den Haag Centraal
23 March 2023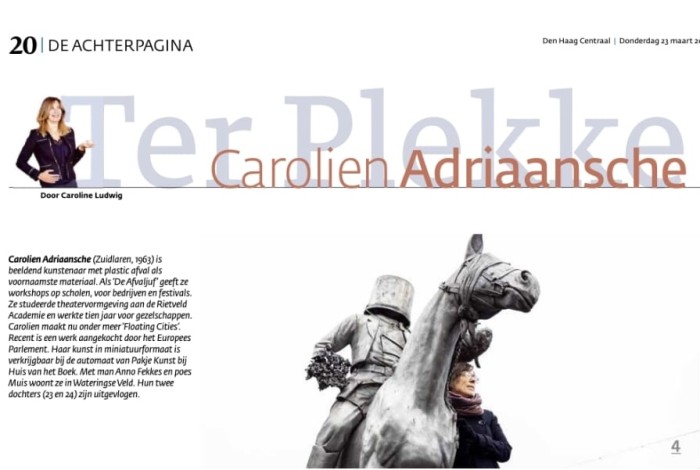 Carolien Adriaansche (Zuidlaren, 1963) is a visual artist with plastic waste as her main material. As 'De Afvaljuf' she gives workshops at schools, for companies and festivals. She studied theater design at the Rietveld Academy and worked for companies for 10 years. Carolien now makes 'Floating Cities,' among other things. A work was recently acquired by the European Parliament. Her miniature art is available at the Pakje Kunst vending machine at House of the Book. With husband Anno Fekkes and cat Mouse, she lives in Wateringse Veld. Their two daughters (23 and 24) have flown out.
Neighborhood "For 20 years we have lived in Wateringse Veld, we are the first inhabitants of our house. There is not much to do. But I like that peace and quiet, my work is already exciting and chaotic enough."
Coffee "Usually I am too impatient to sit down somewhere, but Lust in the Hoekpolder is really an asset. As of May 6, they will be open again. They also have delicious ice cream there."
Going out "We go to the Paard a few times a year. I like live music and we have tickets for Prince S. and the Goat; my husband is a fan."
Talent m "The Hague's Ploggah combines sports with trash picking. His name is Rui Duarte and he organizes tours; I went with him to Madestein once."
Talent f "My daughter Imre Fekkes is still my assistant for one day a week now, but she is working on so many creative projects that I have the fearful suspicion that I will soon lose her."
Building "I really like schools from the 50s and 60s. Zuid57 on Zuidlarenstraat was designed by architect Sjoerd Schamhart from The Hague. Spacious, light and with beautiful murals by Willem Hussem."
Demolish "The outside of Amare, that doesn't make me happy. It is a fussy attempt at decorating a boring square box. I do like the yellow chairs in the dance theater."
Restaurant "Businesses with a Bib Gourmand like Basaal on the Dunne Bierkade and Tapisco on the Kneuterdijk - affordable and delicious. But most often I come to Ming Kee Fast Food in the Markthof. And I'm very happy that Soeboer on the Brouwersgracht is open again."
Typical "Bakkie doen, I thought that was such a strange expression. First heard from Wilma Marijnissen, the recently deceased artist I knew from the Rietveld. I have since embraced the term and use it myself."
Treat "The baba ganoush with a delicious smoky flavor from the Lebanese store Bohica in the Foodcourt near Central Station.
Workplace "I've had a studio at Kunstgreep on Prinsegracht for many years. Recognizable by the text above the door: 'And yet you need art'. Conceived by colleague Ellen van Toor in response to the Salvation Army across the street."
Sports spot "The half-hour bicycle route from home to my studio through nature and beautiful neighborhoods. Via the Bovendijk, the Strijpkade, to the Drakesteinweg with those beautiful wing nuts, through the Zuiderpark, along the Haagse Markt - where I regularly search behind the stalls for plastic waste - ending on the Prinsegracht."
Artist "Lisette Stuifzand makes paintings with a lot of reflection. She also works at Kunstgreep and I see her canvases slowly emerging."
Takeaway "A falafel sandwich at Syrian restaurant Aleppo on Zoutmanstraat. They have many other delicious things there."
Artwork "The equestrian statue of Q.S. Serafin in Wateringse Veld. Once the bucket was stolen, to put it back there was scaffolding and then I sat on the horse for a while."
Annoyance "That the Humanity House is closed. The refugee crisis is so urgent and such a museum belongs in the City of Peace and Justice."
Underrated "Special details and art in the Leyweg and Moerwijk area. For example, the mosaic at the front doors on Enschedelaan."
Outdoors "I'm a fan of petting zoos. In our neighborhood is a very nice one, located in a real farm. The goat in particular has stolen my heart."
Detour " In summer, I go straight from my studio to the beach to swim and sleep. Then I cycle home fully charged."
text Caroline Ludwig
photo Eveline van Egdom