In the newspaper
21 October 2016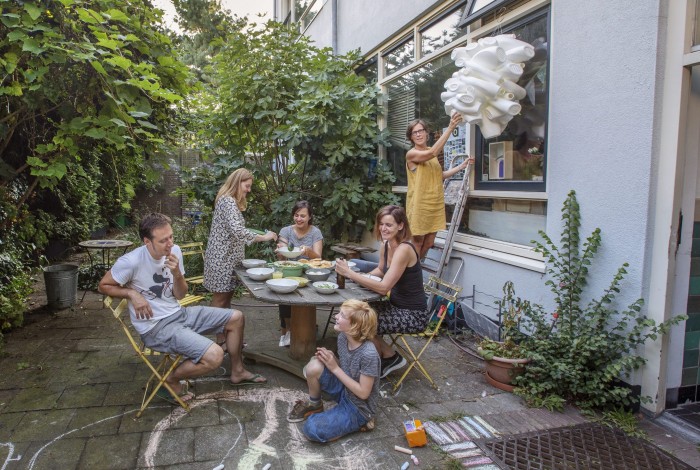 Every Wednesday, artist Carolien Adriaansche (53) dines with fellow artists from the 'Kunstgreep' collective building on the Prinsegracht in The Hague. This weekend they are participating in the Open Ateliers.
"Taking turns to cook, we did this for a long time on one electric burner, but now we have two burners. This time Danièle had made Thai noodle soup. Everyone always does their best- despite the fact that it's a bit of a struggle- to make something special. I really enjoy being able to work long hours at least once a week. We also discuss all kinds of things over dinner: our art projects, our clients, as well as things going on in the building.
"I make art from waste. That's why I collect a lot of plastic. For example, there are now bunches of detergent bottles hanging in my studio in all colors. Besides making art, many of the artists here from the building also do something in addition to it. For example, I give workshops, including in schools. And Lisette is in a café. It's always a balancing act: every artist wants to spend more time in their studio and less outside.
"There are artists who like to lock themselves up alone, but for me that doesn't work. There is no communal 'coffee-drinking spot' in our building: contact occurs as we walk in on each other. There are about seventeen artists working here, so naturally you drop in on some more often than others. You react to each other's work, sometimes very positively, but it can also be hurtful. You lend each other a hand: for example, I sometimes spend an hour with Rogier and Danièle to help them in their animation studio. And for me, there are several people collecting their trash. Then suddenly there is another bag of shampoo bottles hanging on the door of my studio."
In the photo: Rogier Wieland (42), animator, makes stop-motion films, Danièle Knirim (39), makes illustrations and collaborates with Rogier, Inge Simonis (38) is a ceramist, her crockery was used at this dinner. Carolien Adriaansche (53), works a lot with waste and gives workshops as Afvaljuf, Lisette Stuifzand (50), makes paintings with reflections and reflections. Her son Vito (8) makes a dino fantasy drawing with chalk on the ground.
text: Roos menkhorst
photo: Jörgen Caris