De Zwerm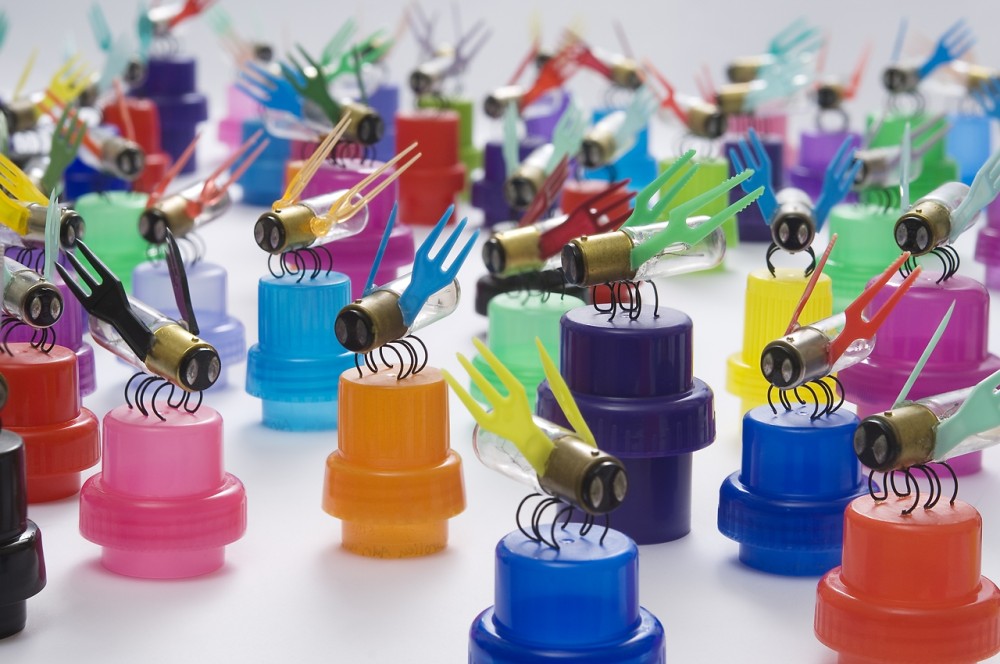 Commissioned by Architectenbureau de Jong Gortemaker Algra in 2013, I made a relation gift in an edition of 100 pieces.
Accompanying text by Henk Heijnen - Kunstuitleen Gouda Region
Carolien Adriaansche - new life from multiplicity
French fry forks, sewing machine lights, dishwasher detergent bottles, pinheads, terminal screws, bolts, detergent bottle caps, wing nuts, stockings, spouts, orange nets, along with hundreds of other objects, parts and packaging. All this in boxes, bags and stacked loose in an old classroom. A multitude that does not become chaos because it is arranged by shape and color. It is the world of artist Carolien Adriaansche.
Adriaansche collects. And how. Her children were given French fries on the condition that they handed in the forks afterwards; while on vacation in France, dozens of two-liter bottles of liquid detergent were bought from as many different brands as possible because of the colored caps; chips and chocolate were eaten because of the colorful packaging; the sewing machine store around the corner saved broken light bulbs for her.
Adriaansche has a small army of assistants who collect things. They do this on commission, but also on their own initiative. From the multitude of objects (discarded, discarded, used, junk) Adriaansche creates a new order. Components that had nothing to do with each other during their working lives, that originate from completely different worlds, are forged together by Adriaansche into a new, living whole. This rearrangement of elements is a craft in itself. Then a miracle takes place when an independent and inevitable object is born from the composition. Suddenly, an unsightly lamp and a dull French fry fork become a winged insect. An insect that is alive, busy landing, or about to fly away. A creature that behaves naturally and holds beauty of nature. A creature that deserves to be determined: it is a species of BzzBulb that occurs in swarms of a hundred.